1. Warehouse Multi Jewelled Colourful Sandals, £30
These bejewelled statement sandals are sure to brighten up any Summer outfit!
2. Topshop Feery Skinny Strap Sandals, £42
I love the faux ponyskin texture and the animal print!
3. Office Hazey Jewelled Two Part Sandals, £38
The pastel gemstones look wonderful against the soft tan base! Perfect candy colours for Summer.
4. Pieces Cathie Faded Blue Suede Flat Sandals, £34
Loving the powder blue against the zebra print! The silver buckle finishes these off nicely.
5. George @ Asda Bow Detail Sandals, £10
I really love this cute multi bow design and these are such a bargain!
6. Head Over Heels @ Dorothy Perkins Knight Gem Sandals, £29
Stand out in these gem-encrusted cobalt blue sandals!
7. F&F @ Tesco Metallic Plaited Tube Sandals, £14
These versatile sandals are such a bargain! I love the twisted metallic tube design.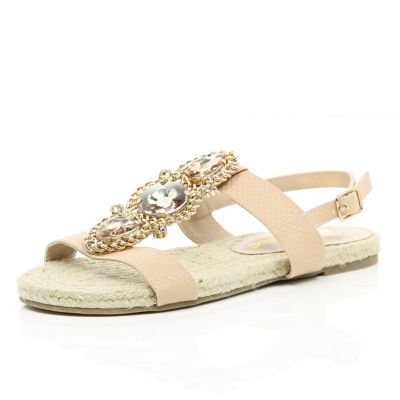 8. River Island Gem Stone Espadrille Sandals, £35 £20
These glamorous sandals feature chain-wrapped jewels and snakeskin textured straps!
9. Red Herring Embellished Strap Sandals, £35 £24.50
These pretty tan sandals are adorned with gems and beads and will compliment many outfits!
10. Pull&Bear Coloured Sandals, £17.99
The simply designed sandals come in this wonderful mint green shade; perfect for Summer!
Which sandals are your favourite?