Oh, I do love a bag or three! Here are my current top ten favourite picks of handbags and clutches: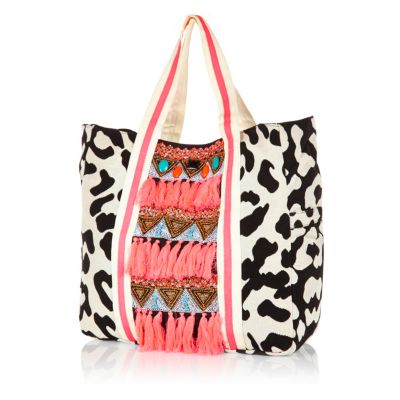 1. River Island Animal Print Tassel Trim Beach Bag, £28
I love the monochrome print, and the jewel embellishment with pink tassel trim is brilliant!
2. Dorothy Perkins Structured Clutch Bag, £18
I love snakeskin print and this clutch is gorgeous! I love the splashes of yellow.
3. New Look Libby Straw Beach Bag, £19.99 £14.50
Straw bags are hot right now! I love this metallic gold one with coral trims.
4. Sacha Grab Bag, £55
This cream bag is just gorgeous and look at the inner lining! A great everyday bag for Summer.
5. Oasis Tamsin Mini Triple Compartment Bag, £30
Wow, I just love this shade of pink! This bright and beautiful bag is sure to get you noticed this Summer.
6. Pieces Leona Canvas Oversized Clutch Bag, £18
This leopard print canvas bag gives a casual take on the clutch, making it ideal for both day and night.
7. Karen Millen Satin and Crystal Box Clutch, £99
Wow, this bejewelled clutch is just stunning! Breathe new life into any outfit with this beauty.
8. Wallis Stud Cross Body Bag, £16
I really love the uncomplicated design of this bag and the gorgeous shade of pink is perfect for Summer accessorising!
9. Boden Mya Bag, £99 £59.40
This bag has been popping up on a few blogs recently and I just love it! I love the leopard print and the fact that it's textured, plus it's an ideal everyday size.
10. Michael Kors Miranda Leather & Snake Clutch, £870
I love this classic black clutch bag with the gold accents and front ties.
Do you share my handbag obsession or does your fetish lie elsewhere?!