(Part One | Part Two)
Hi guys! I'm back in business, woohoo! It was so boring not being able to blog, but having that small break gave me lots of new post ideas, so it's not all bad!
It's only a matter of about five weeks until I get wed, so I thought I'd give you another wedding update!
My florist sent me pictures of the artificial flowers she ordered from her wholesalers for my bouquets. She put them together quickly just for a rough idea and there will be foliage and filler flowers added later. I'm pretty happy with them, but I'm not 100% sure about the pale pink flowers; what do you think? My two bridesmaids will have the same mixed bouquet as me, just in a smaller size. For the three bouquets, it's costing me £66, which I think is pretty good compared to other prices I've seen.
My sisters went dress shopping the other day with my Mum, but didn't have much luck. There weren't many purple dresses around, so they didn't get anything. We will now have to go down the online route... Or we could look into hiring them. Please do let me know if you know of any reliable online retailers for good quality bridesmaid dresses!
On the plus side, my Mum found herself a lovely dress for the day!
There are only a few rooms left at the hotel for the wedding night as a lot of our guests are staying there. Sounds like it'll be a big family breakfast!
Communications still aren't brilliant and I've expressed my concerns to the hotel that I haven't heard anything from the disco people, as the hotel has arranged that. Also, the disco company's website has disappeared... Slightly worried! I think I should look for a back-up disco!
All day and evening invites have been sent out, although we still have some evening invitations to make via Facebook.
We have a ceremony rehearsal with the registrar on the Monday morning before the wedding, and we are meeting the photographer at the hotel in the afternoon, to run through the day. This will also give us the chance to meet with the hotel owner and look around the venue.
I ordered and received the men's buttonholes via an eBay seller; five ivory roses with diamante centres. They cost just £1.75 per buttonhole, so I think they are really good value for money!

I also purchased ivory ribbon and bows for the car. My Dad is driving me to the venue in his old Porsche (I can't remember the model!) and as it's a dark blue colour, so I thought ivory would be more suitable than purple.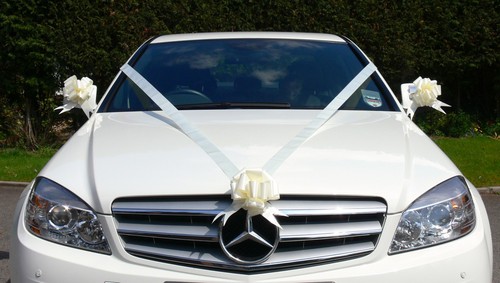 I had a great idea for the evening reception; a sweet table! Like a pick 'n' mix table with jars of sweets and striped paper bags. I found all the supplies I would need and the cost would come under £100. Dean is against the idea because he wants to spend as little as possible so that we have money left for other things. So, my compromise is that we get a couple of these cute sweet trees to go on the table with either the cake or the sandwiches, tea and coffee:

They are something different and look really pretty. This one has pink and white marshmallows and Maltesers. I haven't ordered any yet, but I think I will end up ordering two of these ones. They cost £9 each excluding postage. Do you like these?
We've sent off our marriage notices and witness forms, along with our birth certificates and the £70 cheque for the marriage certificate and the notices.
Laura has arranged the hairdresser for the day, as the one she originally suggested didn't have space for all of us on the day. So, instead we have a hairdresser coming over to Mum's house in the morning to do everyone's hair. Just one problem: she can't do any trials as she's on holiday until the end of the week. So, I will try and get a trial done down here, just so I'm sure of what I want on the day. Also, her prices are very reasonable; £10-£20 for hair up.
For my Hen do, Laura is arranging an Intoxicating Tea Party on the Thursday night before the wedding, at her house, with close family only; sisters, Aunties, cousins, Mum and Dean's Mum.
I'm also having a little hen do down here, next friday. Myself and about seven other girls and going out for a meal at the Indian and then having a few drinks in the local pub.
I'm not sure what Dean wants to do for his Stag; probably a day out Paintballing or something like that!
I actually can't believe it's just five weeks until I become Mrs Everleigh! My brain is doing a great job in stressing me out, giving me wedding-related dreams (more like nightmares!) and making me doubt whether I've done everything. All fun, of course...
I will be up in Scotland in just four weeks! I can't wait to see all my family and best friends. And I can't wait to meet little Imogen!
Let me know if there are any little wedding details I may have missed!