It's been over a month since my last favourite things post, so I thought it was about time I did another!
Here are some of my current favourite things:


Dr Bronner's Magic All-One Organic Lip Balm in Naked, £2.70/4g @ ASOS
I did previously purchase the Peppermint version of this which I loved, but somehow it ended up going in the washing machine and so I thought I'd replace it with the Naked version; the most natural one.
It's a great lip balm. It keeps my lips moisturised for ages and I'm hoping it will help prevent dry lips as well as heal them. It doesn't have a great taste, but what can you expect from such a natural product? This product also comes in Orange & Ginger and Lemon & Lime flavour. Dr Bronner's products are all free from preservatives and petrochemically modified ingredients. They are also certified to National Organic Standards and are not tested on animals. I can't wait to try more of their products!


Maltesers Malty Chocolate Drink, 32p/25g or 4 for £1 @ Asda
As I work during the night and it's obviously a lot colder now overnight, I like to have a hot drink or two while on shift. There are lots of great low calorie instant hot drinks to choose from and I bought 4 to try in Asda's 4 for £1 deal recently. My favourite was this Maltesers one. It tastes just like Maltesers chocolates and is really delicious! I made mine with hot water but you can also have it made with milk. Only 99 calories per serving.

Vitamin E Moisture Serum, £11/30ml @ The Body Shop
I have been using this lovely little product for months now, and I love it! It is pretty pricey, but I was fortunate enough to get it with 50% off. On the plus side, this product lasts for ages! You only need a very small amount at a time. This product is a pre-moisturiser for the face and neck. It helps give extra hydration, seal in moisture and smooth the skin. A great product for someone like me that has dry skin. I don't use this all over, just on my driest areas like my cheeks. I can't describe it exactly, but the smell is divine!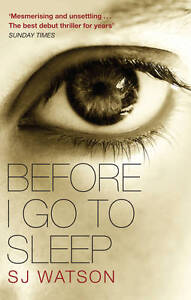 Before I Go To Sleep by S.J. Watson, paperback, from £3.81 @ Play
I recently finished reading this wonderful, best-selling book. I'm usually quite a slow reader, unless a book really grips me; and this one did just that. The book is a psychological thriller based on Christine's life; a woman with amnesia. She wakes every day with no knowledge of who she is or where she is and this book follows her as she tries to reconstruct her memories from a journal she has been keeping. Her life isn't quite what it seems. I truly enjoyed reading this book and if you think it may be up your street, I'd definitely recommend that you read it!


The Body Shop Spiced Vanilla Body Lotion
(This is no longer available to purchase.)
I've had this for quite a while; definitely from last year, if not before. Now, although I'm not a big fan of Winter spice/cinnamon scents, this particular body lotion is gorgeous! My favourite body lotion for the festive season. I love vanilla scents and this one is lovely with just a hint of spice! The scent seems to last all day and the lotion itself is very pleasant; absorbs quite quickly and is pretty moisturising.


Gravity
Dean and I recently saw Gravity at the cinema, in 3D. This was an amazing film! Sandra Bullock and George Clooney deliver perfect performances. The film is about a medical engineer and an astronaut working together to survive after an accident leaves them adrift in space. The director, Alfonso Cuarón, made an excellent job at conveying the characters' feelings to the viewers and making us feel like we are there with them, feeling what they feel and thinking what they are thinking. It was also visually stunning. A must-see film!